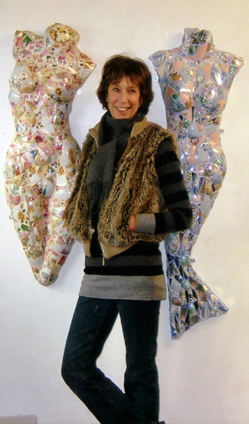 Working with Mosaic and using the female form as a subject, develops from the conceptual clothing side of my work. Shop mannequins are recognised for being stereotypes of an idealised female form. Covering them with mosiac renders them cold and hard, a constrast to the sometimes overtly decorative pattern chosen for the fragments. They become frozen, lifeless.
The development of the mosaic work has become a consuming passion for me. I seek out the darkest corners of recycling centres on the outskirts of towns, ferret through stuff at jumble sales and travel to mid Wales for the car boot sale on a Sunday near Machynlleth. Friends leave offerings outside the door to my studio. Of course all charity shops are my biggest source of materials, inspiration and provide a sideways, alternative view of our society with its obscure cultural references.
The story starts after I have made the decision to buy an object. Bringing it back to the studio where it is placed next to various other objects. I try matching colours, textures, themes and styles but it is the random combinations that make me laugh that often prove to be the staring pont for a piece.
Contents
Bird Woman
Blue Masked
Pink Masked
Do Roses Grow on You
Girl with a Pearl Thong
Blue Hat withWhite Birds
White Birds Alighting

Wall Pieces
Domestic Goddess
Mermaid
Mermaid's Cave
Blue Tit
Siren
Winged Roses
Tribute to Jean
Forget-me-not
Pink Swan Lake
Roccocco Torso
Woman Reflecting
Rose Hip Tea
Garden of Eden
For Ingrid
''Were we only white birds, my beloved.''
Tree of Life Panel
Tulip Panel
Abstract Panel
Goyle Waymarker
Objects given to me by my Godmother as in 'Tribute to Jean', or the candlestick made from Ingrid's late Mum's ornaments, encourage our associations to have a more tangible outcome. Piecing togther fragements and balalncing the practicalities of the construction with the emotional side of the story is an interesting process. I have learnt about Rocococ, Baroque and Gothic styles of decoration and from an enthusisatic designer friend, about the work of Grinling Gibbons.
It seems the possibilities of mosaic are infinite.