A Stitch in Time

This work is about unpicking my relationship with my Austrian mother who adopted me from her sister-in-law when I was just six weeks old. She was very skilled at needlework, especially embroidery. She embroidered clothing, tablecloths, tray-cloths, wall hangings, anti-macassars, monogrammed napkins and handkerchiefs. I never acquired her skill during her lifetime.
On sorting through her things after she died, I found the folded tissue, iron-on embroidery patterns from the 1950s, which she had used. I also discovered amongst her linen some pieces of embroidery she had sewn but over the years had been put away and possibly forgotten about. I was amused at the clichéd English Cottage Garden theme intricately embroidered by the newly married Austrian immigrant.I feel at the start of her new life in a foreign country she tried hard to embrace and assimilate English culture, but I know as time went on she positively celebrated her Austrian roots and my childhood was strongly influenced by her Austrian side.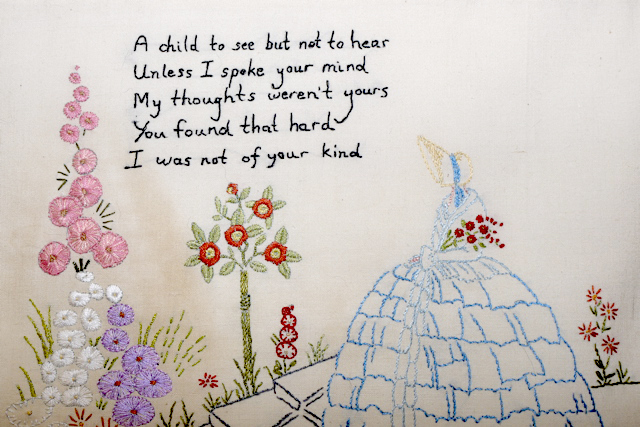 By studying pieces of my mother's work I have embarked on teaching myself how to embroider, reworking some of the original patterns and using old silks and linen. Using the original materials where possible feels an important part of the process. I was surprised at the time and patience involved and how it became a meditative experience with the rhythmic pulling of the silk through the hoop-stretched fabric.
By devoting time to stitch her patterns I felt in a kind of dialogue with my mother. Tracing the picture was a way of listening to her, while writing my words in place of the original doggerel is my reply about the experience of being her adopted daughter. I then took this work a stage further by making drawings of remembered scenes from my youth and transposing them into embroideries.
Things My Mother Said When the Visitors Weren't There uses a tablecloth that my mother had when newly married and used like a Visitor's Book. Guests were invited to write their names on the cloth after afternoon tea and then their names were embroidered in. Some names have no meaning for me at all. I don't know who they were but others bring distant memories alive again, some with great fondness. I have embroidered amongst the names, things my mother actually said to me – revealing a side to her the visitors did not see.
'Not My Baby' is a shawl I crocheted when expecting my own baby over thirty years ago. I have now 'borrowed' it for the purpose of imagining how my mother may have felt on adopting me, her husband's niece, in relation to her own little boy having died before she emigrated to England and a new life.
Things That Made Me Cry are remembered events embroidered onto handkerchiefs.
Mum's Signature Dishes. Food played an important part in my family culture. I have cooked the iconic dishes from my childhood, served them onto my mother's hand-painted Austrian 'best' china and photographed them then using dry transfer techniques printed onto vintage linen napkins and embellishing with embroidery.
The textiles link with my photographic practice as the bringing together of old and contemporary imagery and incorporating text reflects my photographic work "Smile", which also juxtaposes old with new and remembered words.